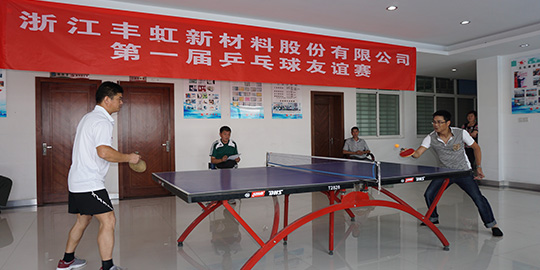 June 19, 2015,with the company's trade union chairman Yan Zhisan said "game started", the first friendly match of table tennis in Zhejiang Feng Hong New Materials Co. started on the fifth floor activity room. The competition was organized by the labor union and the Department of Personnel Administration launched from various parts of the company, each post workers actively competed.
The tournament is divided into men's and women's teams, a total of 16 players. After three hours of incentives to compete, ultimately, from the company's logistics department Mao Cunand, sales department Zhang Ming, logistics department Zhang Xudong won the first, second, third,respectively. QA department Chu Xiafei, QA department Ye Jue, and research and development department: He Qian won the women's first, second, third,respectively.
The competition attached great importance by the company leadership, Wang Wei, president of the company, awarded certificates and prizes to winners after the game. The company will carry out a similar game in the future.