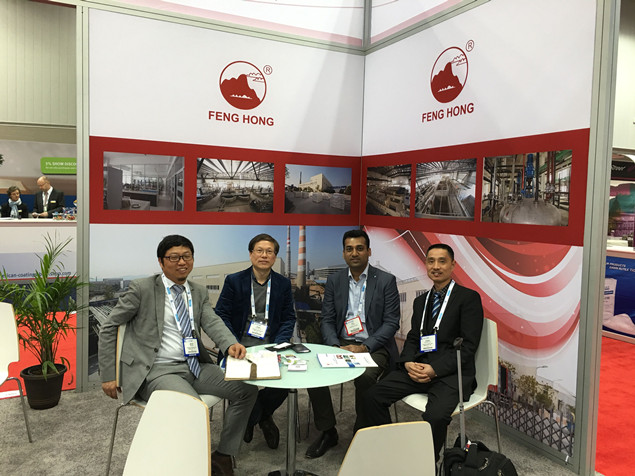 AMERICAN COATING SHOW 2016
----PROVIDETHE BEST SERVICES OF BENTONITE FOR COATING INDUSTRY
AMERICAN COATING SHOW WAS HELD ON 12TH-14TH Apr.2016 AT INDIANAPOLIS USA.
ZHEJIANG FENGHONG NEW MATERIAL CO., LTD WAS INVITED TO ATTEND THE EXHIBITION, OUR COMPANY SHOWED THE POWER OF THE WORLD 'S 3RD LARGEST ORGANIC BENTONITE MANUFACTURER.:
WE PROVIDED THE COMPLETE RHEOLOGICAL ADDITIVE SOLUTION FOR COATING AND INK INDUSTRY; MAINTAINED THE EXISTING RELATIONSHIP OF OUR CLIENTS; DEVELOPED THE NEW MARKET OF USA AND SURROUNDING COUNTRIES; DEVELOPED A LOTS OF POTENTIAL CUSTOMERS.
THIS WAS A LARGE EXHIBITION, THEY HAD MORE THAN 600 EXHIBITORS, 1000 BRANDS, 100000 PROFESSIONAL AUDIENCES ON THE EXHIBITION. THEY NOT ONLY TO WITNESS FENGHONG'S DEVELOPMENT, BUT ALSO TO ACTIVE THE COATING INDUSTRY.
AS ANINDISPENSABLE SUPPLIER FOR COATING INDUSTRY, FENGHONG HAS BUSINESS RELATIONSHIP WITH MANY FORTUNE 500 COMPANIES, AND MANY CUSTOMERS ARE THE LEADER OF THEIR OWN INDUSTRY. FENGHONG CAN BRING THEM NOT ONLY THE GOOD QUALITY OF PRODUCTS, BUT ALSO THE TECHNICAL SERVICES AND SOLUTIONS.


THIS COATING SHOW, FENGHONG MADE A GRATIFYING ACHIEVEMENT, MET CUSTOMERS MORE THAN 100, DEVELOPED POTENTIAL CUSTOMERS MORE THAN 40, TO FURTHER CONSOLIDATE FENGHONG'S POSITION IN AMERICAN MARKET, AND RAISED THE PUBLIC AWARENESS OF FENGHONG'S BRAND.